17 Feb

Which is the best ship in Antarctica?
The Best Antarctic Cruise Ships?

It's a difficult question to answer as each ship has its own set of individual advantages (style of operation, number of guests, age of ship, crew, cabin size, comfort, cuisine and itinerary offered) and what's 'best' for one person, isn't necessarily 'best' for another; and that's how we help – matching your wishes and requirements with the right cruise ship and operator.
Here are five of our, and our client's, favourite ships in Antarctica.
#1
Greg Mortimer (130) – Expedition-Luxury style
The Greg Mortimer entered service in November 2019 and the combination of a new, purpose built, small, expedition style ship and an excellent expedition team and knowledgeable captains and crew and have meant this ship has achieved excellent feedback from all of our clients (as well as our consultant Cinzia, who travelled on one of the early season voyages).
An extensive range of adventure activities as well as a good range of itineraries mean she's quickly become our favourite; for clients who want an adventurous expedition style voyage, but also want a reasonable standard of accommodation and cuisine.  A sister vessel, the Sylvia Earle, is being built to very similar standards and will start operating for the 2021/22 Antarctic season.
Greg Mortimer (130 Guests)
Suite on-board Greg Mortimer
#2
Sea Venture (149) – Expedition/Luxury style
With a recent refurbishment this ship is ideal for those who like their creature comforts too much to go with an 'expedition' ship, but still want a smaller ship and an expert expedition team who deliver a full programme of activities and excursions. Her public areas include: Restaurant offering open-seating dining, a bar, al fresco dining (weather permitting) a very comfortable lounge, a well-stocked library, presentation lounge, infirmary and  well equipped gym.  With an open-bridge policy you will have access to the bridge and the Captain and officers (international regulations may require the bridge to be closed at some ports).
Built in Japan in 1990 (formerly known as the MS Bremen) the Seaventure was updated/refurbished in 2020.
Suite on-board Seaventure
#3
Magellan Explorer (73) Fly-Cruise Expedition-Luxury style
Another new, purpose built, expedition-luxury ship which whilst she has the capacity to carry 100 guests for her fly-cruise voyages she carries just 73 guests (the number that can be accommodated on one flight).  The Magellan Explorer launched last in 2019 and the feedback has been excellent.  She offers Antarctic cruises where you fly from Punta Arenas in Chile to King George Island on the South Shetland Islands where you board the ship, this not only avoids the Drake Passage it also means you can visit Antarctica in a shorter period of time.
With a maximum of just 73 guests not only can everyone disembark quickly to maximise time exploring, a good guide to guest ratio offers maximum flexibility;  long walk, short walk, kayaking, photography, snow-shoeing options can all be offered simultaneously.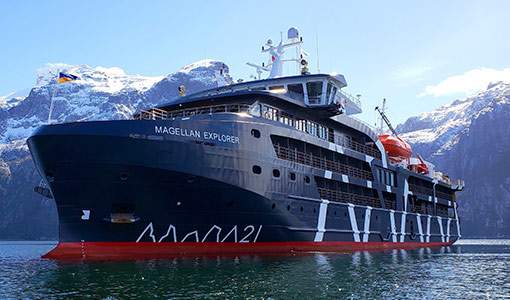 #4
Ultramarine  (199) Expedition – Luxury

Yet another new (launched 2021) purpose built ship offering a a good level of comfort as well as an expedition mentality (i.e. even though the ship carries 199 guests the expedition team work to ensure that if you're not on shore you'll be zodiac cruising, then you swap over with those who went ashore)
#5
Ocean Adventurer (132) Expedition style

Whilst she's no spring chicken (having been built in 1975) this small expedition ship offers very good quality voyages. She's been refurbished as recently as 2017 and offer clients great value.
Cabins on Ocean Adventurer
Subscribe to our email newsletter 'Tailor Made Journeys' to hear about our latest news, new experiences and all things Antarctica, Latin America and the High Arctic.